Digital ignites B2B Marketing
With Digital Marketing, B2B business is undergoing a revolution. The importance of direct commercial action decreases strongly in favor of the marketing activities, and more precisely the action of Digital Marketing. This evolution is one of the effects of the Digital Transformation, which spreads its share of innovations in all departments of the company, and in particular in the marketing and sales functions.
The Importance of Digital for B2B Marketing
60% of B2B purchasing decisions are made before any contact with the supplier ( source CEB )
This figure, provided by CEB analysts (and confirmed by Forrester in the study "Death Of A (B2B) Salesman" ) must be a real shock for B2B companies.
If buyers make as much of a purchase decision without consulting you, you have to find ways to convince them without meeting them. To do this, Digital Marketing provides the right tools and the right approaches.
The 3 levers of B2B Digital Marketing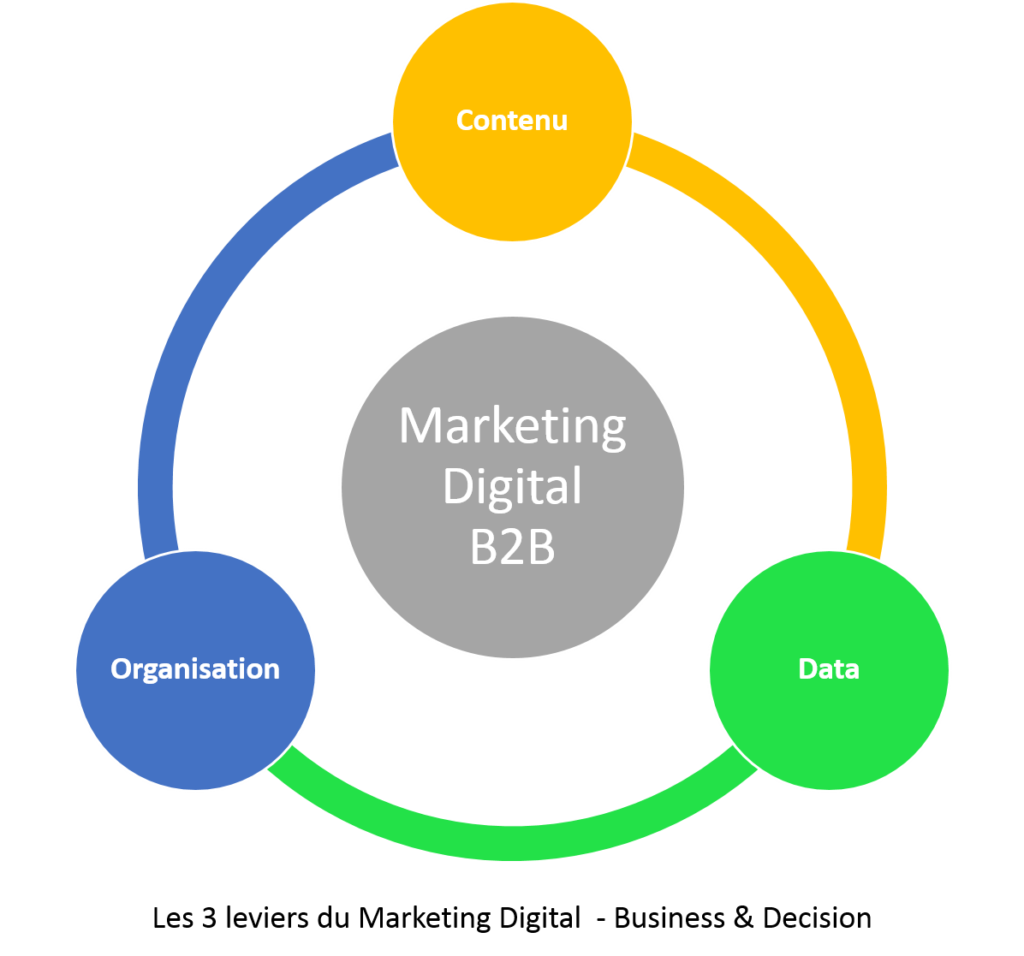 Content for lead generation
The first problem is to make visible your products and services and to make you identify by your prospects as a relevant actor that can answer their problems. Digital devices respond to this challenge: traditional online shopping and e-commerce websites are complemented by mobile applications and sites, blogs, social networks, sector-specific websites, forums, etc. While making choices relevant and consistent with your strategy, all digital approaches are to explore: SEO, SEM, advertising, partnerships, etc.
The messages communicated by these devices must be relevant and useful to your target (I hope that this is the case of this article! If you are still there, it must be good :). For this, you need content, and it is this creation of content that is the most expensive (as an indication, it took me more than 4 hours of work for this article) and on which must be the efforts. This content must be adapted to your target and be diverse: White Paper, articles, interviews, videos, podcasts … The goal is also to take advantage of the viral effect of social networks for their dissemination.
Each of these contents must be an opportunity to identify leads. Thus, the contents are an opportunity to recover contacts and information. This information can be left explicitly (via call-to-action (CTA) and/or information retrieval via a form) or implicitly (through web tracking and customer journey analysis). This "incoming" marketing is called Inbound Marketing.
Data to make smart actions and devices
This strategy of Digital Marketing is, therefore, an opportunity to recover data on your prospects and customers. This information is valuable for the future because they contribute to customer knowledge.
Many devices made intelligent by the Data can then be used. I quote some here as an example:
Targeting and personalization of contents
Detailed knowledge of your contacts is the key to effective prospects/customers relationship. Data makes it possible to acquire knowledge and Data Science makes it possible to transform this knowledge into intelligence. With this, fine targeting will make campaigns more effective, analytics will identify the most relevant content, scorings will identify customers with higher potential, and so on.
Lead Scoring
In B2B, pre-sales costs can be significant. So you have to objectify them and invest them in the best deals. Lead scoring can predict the chances of turning the lead into a contract and what turnover (or even margin) would bring this deal back if it were won.
Real-time marketing and recommendation engines Real-time
is one of the major trends in digital marketing and is as important in B2B as it is in B2C. The recommendation engines are one of the features of real-time marketing the most visible and effective.
Data will also make it possible to measure and improve the efficiency of the different devices put in place. It's a virtuous circle. Digital Marketing's devices create data that is exploited to make digital marketing devices smarter. As you can see, Digital and Data are intimately linked. At Business & Decision, we are convinced! And we can never repeat it enough: "Digital and Data are the two ingredients of the digital transformation of companies".
The organization to align the commercial and marketing functions
The impacts of the implementation of Digital Marketing are therefore important and must be accompanied. From an information system point of view, new tools are to be implemented (lead management, lead nurturing, web tracking, etc.).
One of the keys to success is the integration of these new tools with the CRM of the company. This will put the lead tracking and closing under control. In addition, support for the necessary exchanges between marketing and sales representatives can be provided.
Beyond tools, Digital Marketing poses organizational challenges. For sales representatives, the share of prospecting and lead detection activities should decrease sharply with the implementation of these devices. In return, they will then have to work on the qualification of the case and on a particular closing device. The phrase "Prospect less, do more Digital Marketing" sums things up nicely.
Establish a B2B Digital Marketing Strategy
In short, Digital Marketing moves the lines of business and enterprise. Between organizational evolutions, change management, new tools, new practices, and new skills, the subject is rich. Also, before you start, we advise you to establish a strategy to determine the axes, actions and to establish an implementation plan. This will help make the right choices, quickly unlock value through quick wins, measure ROI, and implement effective sequencing of actions.