Digital Marketing: Why You Should Think Customer Experience First
We have all seen that in many marked places, another path was emerging in the ground or grass under the frequent footsteps of pedestrians. Who has not already taken a shortcut to cross a square rather than following the official, longer path? It is from this observation that the implementation of a Customer Experience First (or Customer Experience Centric) strategy makes perfect sense.
Often the paths imagined are not those really necessary or traveled by pedestrians. It is experienced (traces) that one discovers the real choices of users and, from there, other buildings, other gardens can be drawn.
When it comes to customer experience, the same thing happens: marketing imagines engagement paths across all its channels using increasingly powerful solutions. Thus, in an Inbound Marketing strategy, we will seek for example to optimize the recommendation on the Internet, leading to a particularly neat landing page (preferably including more visual elements than text to avoid a rebound too fast) with actions to learn more (other page, white paper, form, video, etc.) The structure of websites is imagined as a journey to become a "conversion funnel".
Ever-changing uses
But with the multiplication of channels, the proliferation of mobile applications, uses and paths are constantly changing. The arrival of a new intermediary can profoundly change the journey of customers: TripAdvisor created in 2000 has profoundly changed in its time the tourism market by combining the evaluation and booking.
Recently, it's a new start-up called Wingly that proposes to book private flights! It is also Instagram that no longer presents but has just strengthened on the use of videos by launching a new dedicated application or YouTube that deploys its premium version with download and mobile application dedicated to music! Etc.
Be Customer Experience First
From a "digital" point of view, it has become clear in recent years that it is necessary for any Marketing Director to coordinate his different channels through an overall logic where each channel can, for example, respond to different objectives. Beyond its intrinsic quality and originality, the content must be dynamically adapted to the context of the visitor: his career, his previous visits, his device …
Technically, we can, for example, be interested in CMS or marketing platforms combining content creation, A / B testing, web analytics … in all-in-one solutions to contextualize emails, newsletters, banners, but also some brick content of websites and mobiles.
Customer experience: many moments of truth
Nevertheless, from a customer and business strategy point of view, the scope of the customer experience is wider. And this, because there are several "Moments of Truth" not all being realized in a digital environment: the identification of the need, the search for solutions, the purchase, the consumption, the re-purchase, the recommendation …
To be "Customer Experience First", it is advisable to intervene on all 6 aspects illustrated in the diagram below.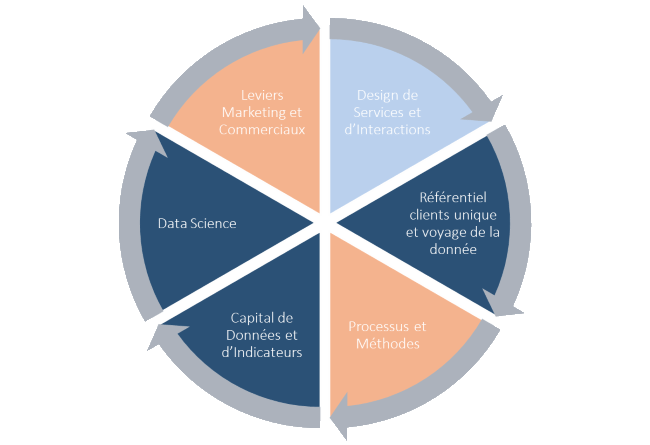 The orange levers in the diagram are usually known and addressed around CRM / Marketing projects (Marketing and Sales Levels) and Lean Management (Processes and Methods). Business & Decision also frequently offers support on the other levers in dark blue, around our four convictions and key areas of expertise:
The data: the data must travel easily and be regularly enriched, consolidated and exploited to become a decision aid or be the source of automated operations.
The digital: Most activities can be digitized and enriched by digital (new services and halo effect). It's a lever of performance and a source of data to go even further.
The technology: publishers we choose as partners are selected for the quality of their solutions, their customer commitment, and the R & D level. These can be market-leading solutions or start-ups that are growing because of the originality and strength of the approach.
The change management: beyond training to new tools and processes, customer culture leads to shorter project cycles and collaborative, involving new project modes (agile), new skills and new behaviors within the 'company.
Measure, measure, measure …
Last but not least, as the most recent 2018 " Demand Generation Benchmark " report shows, it has also become a priority for marketing to measure the volume of qualified leads that have been channeled upwards.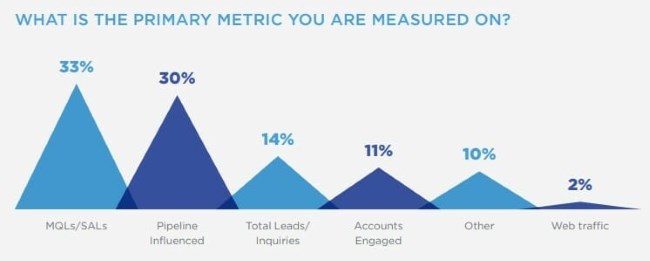 Clearly, any investment in Customer Experience is only worth the value it brings to the Customer and the company itself. Return on investment and turnaround time will, therefore, be the driving force behind projects to build what today seems to be the only sustainable competitive advantage: the ability to constantly mobilize to offer a superior Customer Experience.