FINANCIAL INTERMEDIARY: WHO TO TURN TO FOR MONEY AND INVESTMENTS?
There are many financial intermediaries that the private investor can use to invest his money and manage his wealth. Banker, broker, insurer, wealth management advisor, management company, family office: who to turn to?
Discover our detailed listing which lists all the actors marketing the various financial products, their characteristics and their specificities in order to determine which one is the most appropriate according to its problematic and its needs.
TRADITIONAL BANKING AND ONLINE BANKING FOR YOUR DAILY OPERATIONS
Account keeping and means of payment
The first of the financial intermediaries that the individual encounters is undoubtedly the bank. Any individual has one or more accounts in a bank or several different banking institutions. It can be a network bank or traditional bank, but also an online bank. It is on this current account that he receives his various income and it is from the latter that he makes his various payments (transfers, payments by credit card or check) and that he is able to withdraw some change.
The preferred financial intermediary in case of the credit
The bank is also the financial intermediary to which the individual will tend to go into debt, whether it is a real estate loan or a credit conso. It should be noted, however, that consumer loans can also be provided by specialized agencies, often subsidiaries of large traditional banks. Thus, Cetelem is a subsidiary of BNP Paribas and Sofinco is a subsidiary of Crédit Agricole.
The purveyor of bank books and other investments
But the bank is also a financial intermediary that will offer you various investments. The best known are undoubtedly the bank booklets and plans from regulated savings that are the Livret A, the booklet sustainable development and solidarity (LLDS), the booklet of popular savings (LEP) or the PEL (Plan Epargne Housing) and the CEL (Housing Savings Account). But we can also subscribe to the bank booklets of banks of which we are already customers or open a booklet with those who offer the best offers of bank booklets.
All these savings media are safe. They are in fact guaranteed capital investments, these investments so much appreciated by the French.
But the bank is also a financial intermediary that allows holding other types of investments such as the PEA or Stock Savings Plan and the PEA-PME and the securities account to invest in the stock market.
It is also via a bank that an individual investor may hold in registered form the value or values ​​of which he is a shareholder.
Finally, you can also use your banker to buy life insurance. Be careful, the latter will only offer life insurance contracts marketed by the establishment for which he works.
A public offer at very variable rates
Banks are for everyone. There is a very wide and very comprehensive offer available to the entire population. This financial intermediary is the first and often the only one to which the population is addressed. Yet, we can blame him for two major flaws.
First, fees have risen sharply in recent years among traditional players. In this context, online banks are doing well because they also offer a comprehensive offer of products and services, at a competitive price. They are catching up on the only point on which they were distancing themselves by the NeoBanks: payment fees abroad.
To compete with these neo-bishops who offer a more limited product offer, Fortuneo, and Boursorama for example, have just made free payments and withdrawals of money outside the European Union for some of their cards. Online banks, therefore, have the advantage over others to present the most advantageous rates.
Then, another reason for dissatisfaction, the council. The bank advisor, as its name suggests, is there to provide advice in a particular investment and choice of products. According to a poll for the Money Neobank in September 2019: "The majority of consumers (67%) find that their banker does not accompany them enough in their projects," 82% of respondents believe that "their advisor is not "more than two-thirds believe that their life would be better if their banker was more willing".
THE ONLINE BROKER TO INVEST IN STOCK MARKET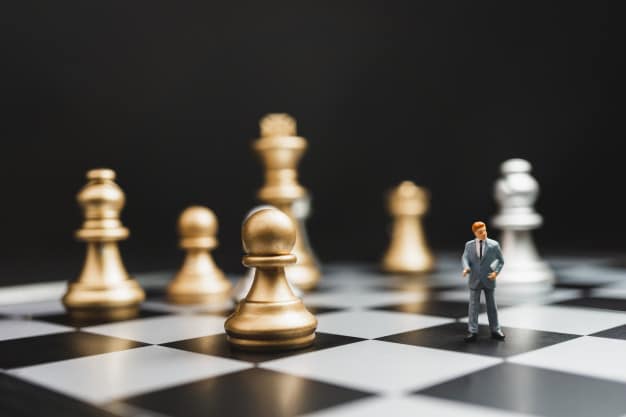 Stockbrokers are imposing themselves on the financial markets
Traditional banks, of course, offer a brokerage activity. However, the advent of the Internet has allowed many online brokers to see the light of day. This may be the brokerage part of an online banking establishment (such as Boursorama, BforBank, Fortuneo or ING Direct) or hardcore brokers like Degiro, Bourse Direct or Binck.
These players have the particularity of offering PEA and securities accounts to their customers to invest in stock market and derivatives, but also to trade online other assets such as commodities or currencies.
Stockbroker: an ultra-comprehensive offer at ultra-competitive rates
Online brokers offer a very complete offer. They make it possible to trade in more financial markets than traditional players, and with a range of services often extended and at much more competitive prices.
Indeed, online brokers often offer demo accounts, webinars, conferences, white papers, analytics, and more. Particular attention is paid to all these educational materials intended to accompany the private investor.
In addition, Online Exchange brokers have much lower fees than traditional brokers who act as brokers. Some have even implemented a particularly aggressive tariff policy.
THE INSURER VERY PRESENT IN THE DAILY LIFE OF THE FRENCH
A little known intermediary even if he is often asked
In most cases, the private investor does not even know that he is a client of a particular insurance company because the subscription to the insurer's product was not made directly.
In fact, almost half of French people have life insurance and yet few know which insurer provides it. We usually only use the name of the distributor who is most often his bank (traditional or online), or an online broker (such as Binck, for example) or a fintech (like Yomoni) or a management consultant heritage. It is therefore not often that a French person knows if his contract comes from Swiss Life, Suravenir, Generali, Cardiff or others.
More diverse financial products than it seems
Of course, the insurer is the financial intermediary that allows the purchase of life insurance, one of the preferred savings media of the French. But insurers can also offer savers and investors other products such as the capitalization contract or even a PEA. This is then PEA insurance, slightly different from the bank PEA. It is similar to a capitalization contract that would only be invested in units of account.
THE WEALTH MANAGEMENT ADVISOR FOR YOUR INVESTMENTS
A service that tends to become more democratic
The wealth management advisor is aimed at wealthy individuals with investment and wealth engineering issues. Formerly reserved for the most fortunate, the wealth management advisor now offers its services to the wealthy middle class who, for example, want to invest to pay less taxes, invest their savings to prepare for retirement or organize his estate to limit inheritance rights.
A global and heritage offer
The wealth management advisor is, therefore, a financial intermediary likely to offer you life insurance investments, but also rental property investments or investments in SCPI, complex real estate mounts in the form of SCI with issues of dismemberment to optimize the IFIs, at least in part, and inheritance rights. He can also advise you on alternative investments: GFF and GFI to invest in the forest or GFV to invest in wine, for example.
The wealth management advisor is a financial intermediary that offers a wide range of financial products to its clients, with an advisory and support component. He also puts their skills (or address book) to their service to provide legal and tax advice in addition to his investment advice.
THE MANAGEMENT COMPANY TO MANAGE YOUR ASSETS
Portfolio management: a confidential service
An individual may use the services of a management company without real awareness. In fact, it is rare that one is a live client of a management company. On the other hand, it is more common to use one's services through the managed management of one's life insurance policy or through the management under the mandate of one's PEA or securities account, whether the distributor is a bank, an online broker or a wealth management advisor.
However, it is possible to be a live client of a management company. The situation only concerns the high net worth individuals who can entrust this company with particularly large outstanding amounts.
A high-end offer and management by experts
A management company or Asset Manager is made up of experts who manage the asset portfolios of its clients who do not have the time or knowledge to carry out the necessary operations.
THE PRIVATE BANK FOR A HIGH-END PERSONALIZED OFFER
A complete offer for an elitist clientele
A private bank offers the same services as a traditional bank: bank accounts, loans, investments, etc. But above all, it also offers tailor-made support to a clientele as easy-going as it is demanding, who is not satisfied with an investment offer and also wishes to benefit from heritage engineering expertise.
Asset Management and Asset Optimization
Private banks are specialized in asset management. They offer their clients original and customized products: Luxembourg life insurance, private equity funds, medicalizing investments, atypical investments (wine, cars, works of art, forest, etc.).
The private bank also provides its clients with heritage engineering experts (wealth engineer, tax lawyer, asset manager, etc.) to carry out all their projects: tax optimization, transfer, and succession, management of a foundation, etc.
A tailored accompaniment
The private bank offers an offer à la carte. You can totally delegate the management of your assets or only a part. Mandated management as recommended management is commonplace. It is therefore up to you to define which investments you wish to delegate management to, or advice that you will be free to follow or not.
THE FAMILY OFFICE OR MANAGER OF BIG FORTUNE
More than a financial intermediary
The family office for the wealthy occupies the same functions and offers close to a private bank but also offers an administrative management service and daily business. The spectrum of skills ranges from asset management to tax and legal issues through concierge services.
Single-family office and multi-family office
There are two types of family offices: the single-family office and the multi-family office. The first is the privilege of the wealthiest families because it means that the family office manages the affairs of a single-family which is its sole employer.
The multi-family offices that offer their services to several families are more similar to private banks, which would also offer a concierge service, administrative management.