Geomarketing: how to finally exploit all its potential?
Geomarketing is a discipline highly appreciated by both marketers and operational managers. This is mainly due to the visual simplicity of the results (cartographic representation) allowing rapid decision-making. However, even if geo-marketing is currently used systematically in companies, it remains in the majority, heavily under or poorly exploited. How to cure it?
First, why such an under-exploitation? This comes mainly from the fact that the data external to the company is not (or very little) integrated. And this, unlike the data directly related to the company (consumption KPI, competitive pressure …) which is very present for decision making.
External data, however, requires work upstream to find the information that will bring "a plus" to the company. They will then involve a simultaneous analysis of all these data.
Geomarketing: what companies usually put in place
Geolocation data are not new within companies and are exploited in various ways, whether for monitoring activity (penetration rate, distribution of turnover, the geographic distribution of customers), for monitoring pressure competitive, or even in the study of the potential of geographical areas. They serve to improve customer knowledge (CRM) and thus increase business activity.
Some users of geo-marketing within banners:
Optimize the establishment of a sign in an area based on competition and demographics,
Define catchment areas allowing a first segmentation of the customers according to the activity in order to define areas to prospect in priority (distribution of leaflets, advertising displays …),
Customize the offers according to the geographical zones (rural or urban area, the proximity of a border …), so that the chains can optimize their distribution channels and the proposed offers,
Measure the impact of commercial actions by zone and define differentiated customer behaviors (frequency of purchase, average basket, expenses, types of products consumed, cultural habits …).
These are all uses that have allowed companies to develop their networks and move a little more towards ultra customization of offers. However, this is only a small part of the potential of geolocation.
Why is not that enough?
The main reason for this lack comes from the opening of open data and the provision of new sources of public information. These new sources of information enrich what was already provided by INSEE.
We find:
Macroeconomic data at the national level for each country ( http://data.worldbank.org/ ). These make it possible, among other things, to study the stability of a country or to understand the success/failure of commercial actions depending on the economic context,
Microeconomic and macroeconomic data at the national level for France ( https://www.data.gouv.fr/fr/ ) with the provision of data from the API. We can thus obtain a multitude of information on employment, companies, housing, transport …
Microeconomic data at the regional level and for each metropolis (eg: https://data.iledefrance.fr/; https://opendata.lillemetropole.fr/ ) where we can find data such as the list of past sporting events and come (which can be useful for sporting brands when approaching an event …).
The appearance of online platforms
Online platforms like Open Data Soft have also appeared. They make data available as well as interactive maps.
However, since the data opening is rather recent, some regions / metropolitan areas still have few data available. Another difficulty lies in the selection of useful indicators from all these new data. And this selection can take a long time to be put in place.
How to exploit open-source data in geo-marketing?
The exploitation of external data has not yet entered good practice for all companies. And for those who have taken the plunge, few are those to exploit the full potential. For the external data used, we find mainly demographic data: numbers of inhabitants per zone (crossed with the number of clients to obtain the penetration rate), average income per household, population density, etc.
So many external indicators (density, average income, number of inhabitants …) to cross with simple internal KPIs (CA, average basket …) than cartographic representations that must be superimposed. This becomes very quickly unmanageable and the cartography loses all its interest.
Let's take a simple example. Let's say that I want to know the penetration rate by zone according to the average income per zone while wanting to know if I am in a dense zone or not: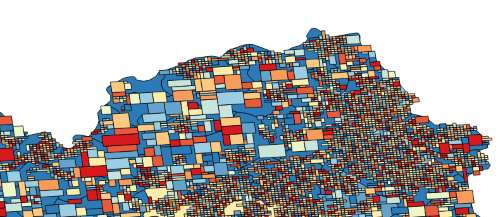 Penetration rate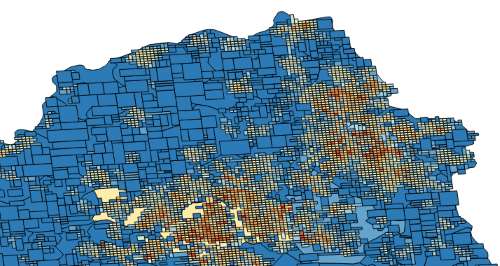 Density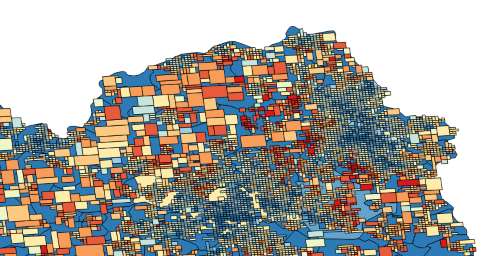 Average income
Although in our example, the mesh is extremely fine, we can see the difficulty of crossing the data (having only 2 external information to cross with an internal indicator). It is therefore impossible to cross a dozen external information using this method.
Companies are content in this case to cross their KPI with one or two external indicators, greatly limiting the potential of information.
Condense all external information into one
It is, therefore, necessary to condense all the external information into single output information.
For this, one of the possible solutions is to:
Select the set of external indicators that make sense and that will serve to characterize the population (eg density, average income, youth rate (aged 18 to 25), social housing rate … with as many indicators as we wish).
Carry out a mixed classification on these data (k-means + hierarchical ascending classification) which will make it possible to attribute to each zone a group according to the characteristics of the zone. (An area here is a tile or rectangle with between 10 and 1,000 people).
Each zone will then be characterized by a group (eg young urban executives, large peri-urban families, modest incomes …). Each of these groups characterizes a typology of people (eg "young urban framework" as its name indicates concerns young, highly educated households living in a dense area).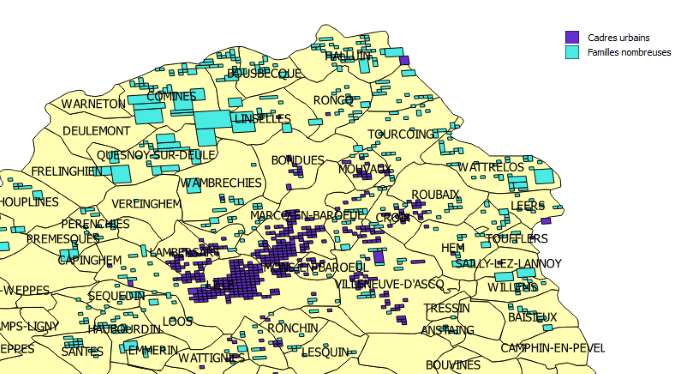 From there, it becomes easy to cross KPIs already in place with this new information. Simple and differentiated actions can thus be quickly put in place (quick win). It will also be very simple to assign each customer (having filled in his postal address) to an area and therefore to a group.
Companies provide customer segmentation cards, but they are relatively expensive. Above all, they are not necessarily adapted to the use you want. Some features will not be interesting or may be missing.
Combine decision support tools and public data
To date, almost all companies retrieve the mailing address of their customers, and few have not transformed this data into contact information. This is where you can take advantage of geolocation data for short-term results. This is thanks to the introduction of new decision support tools that will include public data.
In this way, each company will be able to create its own decision support tools by including external data of its choice. However, they should not forget to readjust their offers based on this new information. This step, which is not the simplest, is all too often neglected.
Moreover, beyond external data, we have recently seen new technologies ( Beacon, wifi, ultrasound). These make it possible to widen the potential of geo-marketing action, in particular with the follow-up of the customer journey in the store. These new technologies are in their infancy in the stores, and the exploitation of these new data remains to be built.