Luxury succumbs to the era of Digital Marketing
Formerly opposed, the worlds of luxury and digital have come together. Today, luxury marketing does not hesitate to use the tools of the web.
It's a love story that comes from far away. On the one hand, an industry that focuses on scarcity and the exception; on the other, the world of the web, a mass-market full of news, transparency and gratuitousness, the place for bargains and the all-public. Two universes that opposed everything, and which nevertheless became complementary by the force of things. So digital luxury is no longer an oxymoron, but a powerful marketing association.
The 3 great eras of digital luxury marketing
It is true that the values ​​of both seemed previously contradictory. The luxury marketing has always relied on sources considered "more serious" than the web and cynical caricature. Just turn the pages of news magazines in the waiting room of the doctor to realize that advertising of luxury is still the prerogative of the clipboard.
But in recent years, a love story is taking shape. Despite a stormy and long-lasting engagement, luxury and digital have ended up getting married, as we read in this article. Three key periods marked this rapprochement:
Digital luxury 1.0, from 2000 to 2005. This is the era of e-commerce. Hermes, Tiffany, Burberry, Gucci are among the first luxury brands to start selling online.
The luxury digital 2.0, from 2006 to 2010. This is the era of communication on social networks.
Digital luxury 3.0, from 2011. This is the era of e-marketing, when luxury homes place digital marketing within their sales strategy, without lending the flank to the least accusation to transform their business model towards the general public.
The conclusion is clear: the digitization of luxury is underway. In 2015, according to the Observatory of the digitalization of luxury brands (the detail here ), digital has weighed 6% in the turnover of luxury brands. And experts estimate that this figure is expected to triple by 2020.
How luxury has become the tools of digital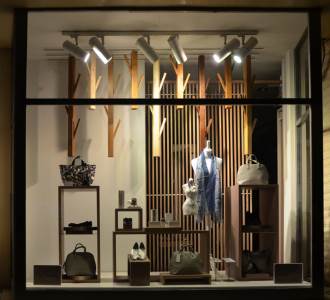 Luxury has managed to appropriate the digital.
Make no mistake, so far: the digital has not absorbed luxury. In a way, the opposite is happening. Luxury has appropriated digital and its possibilities as tools among others to make themselves better known to consumers and improve the relationship between their products and their customers.
Optimize the customer relationship
It is by optimizing what is the essence of luxury – the customer relationship raised at the level of the exceptional – that digital brings its stone to the building. Digital technology allows the world of luxury:
Speed ​​up the registration and delivery of orders; some brands offer for example to check online, in real-time, the availability of a product in the shop.
Use geo-location to help customers identify stores or related services (for example, places where Nespresso capsules can be placed after use).
Developing the remote customer relationship: Longchamp offers its clientele the opportunity to communicate with an advisor in order to be accompanied during the online purchase process. For their part, Cartier, Gucci, and Vuitton take care of maintaining a personalized service with their customers, via telephone or email assistance, or by scheduling appointments in shops.
By digital, do not just hear the internet and networks. These are also solutions that are deployed within stores to improve customer experience. At Nespresso, for example, in addition to traditional cash services, consumers can pay for their purchases directly at an automatic kiosk. It weighs the bag and determines by itself which packets of capsules are there.
So that one of the great values ​​conveyed by luxury for decades, the notion of freedom, has been enhanced by marriage with digital.
Luxury-related sites and blogs: a priceless marketing springboard
Before the actual service, there is an essential step: the preparation of the purchase. According to a study conducted jointly by Albatross and 1000mercis, and published in October 2015, the opinions gleaned online now account for 30% of the purchase incentives in the luxury sector, against 8% in 2014. An increase of 24% in one year! While shopper experience remains fundamental to consumers, with expectations of courtesy and expertise, it seems that a growing number of luxury customers are preparing their purchases. well upstream by surfing the internet.
Let's go into detail. According to this study, 56% of European consumers of luxury products prefer digital channels as sources of information before purchase. The act of acquisition itself still remains mostly attached to the physical store. Indeed, 75% of customers who inquire online conclude their shopping in stores, and especially in single-brand stores.
Digital channels and showcases of qualitative information
Digital channels are all online media on which a brand can express itself. His dedicated website, of course; social networks. But also sites and blogs passionate, which contribute to significantly improve the visibility of products, and thereby to support the marketing of luxury. Chronotempus for watches or Needsandmoods for beauty products showcase for qualitative information that buyers are praising and brands are no longer ignorant of.
These blogs, because they gradually became opinion leaders and they generate a significant audience, were gradually solicited by the brands to talk about their products. It is not a question of vulgar product placement, but of a good understanding between big companies, who want to accentuate their presence on the Web, and demanding bloggers who take the opportunity to express all their love for a brand.
Finally, social networks allow brands to disseminate information to consumers about their new products (59% of luxury customers follow brand activity on these networks) as well as promotions (closely watched by 31% of them). But their real power is not in the simple newsletter. Social networks are a source of proliferation of photographs and celebrity videos that promote, more or less voluntarily, luxury goods. In the same way that an Omega wristwatch of James Bond at the cinema can boost sales in stores.
In conclusion: luxury Aeterna
The challenge of marriage between luxury and digital is twofold. At first, the world of luxury improves its customer relationship with traditional consumers of the brand, offering them all kinds of services and pampering them. This is the purpose of automatic cash registers at Nespresso. This system will not encourage you to buy a machine and capsules if you were not already a customer, but it greatly enhances the acquisition experience if you are a member of the club.
In a second step, the marketing of luxury is based on digital tools to expand its reach and reach a younger audience – digital natives – who are used to online consumption. And not only younger, but also geographically distant. Thus, it will not have escaped the marks that luxury Asian customers are 60% hyperconnected, they spend their time on websites and social networks to glean information, and they come to buy after to be carefully informed.
The benefit of an increased presence on the web is invaluable. One day or another, brands know, digital buyers will have replaced customers attached to the physical transaction. And the future is today that it is preparing.